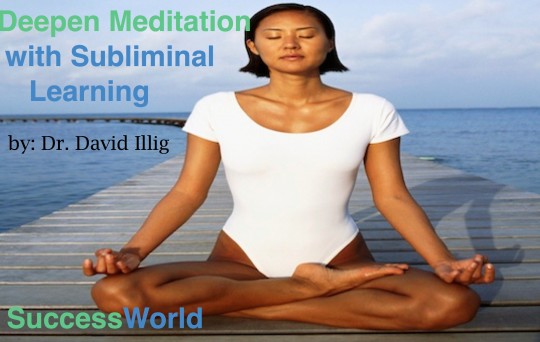 Deepen Meditation With Subliminal Learning; Music & Nature Programs

Meditation helps people feel less anxious, ease mild depression and become more in control of their lives. The awareness that meditation brings can also be a source of personal insight and self-understanding. The longer an individual practices meditation, the greater the likelihood that his or her goals and efforts will shift toward personal and spiritual growth.
THIS PROGRAM, UNLIKE OTHER SUBLIMINAL PROGRAMS, CANNOT BE USED WHILE DRIVING OR OPERATING ANY VEHICLE. It is designed for closed eyes.
The Practice Meditation meditation program has both a musical subliminal portion (29:06 min.) Track 1, and an environmental subliminal portion (28:31 min.), Track 2. This program is designed to deepen and strengthen your meditations. It will help you to be more centered and focused. The lasting benefits from each meditation can flow on and on. Within this program are thousands of subliminal messages, which your conscious cannot hear. However, your inner mind can hear them easily and learn from them deeply. All of these messages are safe, positive, healthy and powerful. They will only add to the meditation you are doing, elevating your experience to a higher and deeper level. This program includes special resonant tones, which have been found to quicken our entry into the meditative state and deepen the experience. These special resonating tones gradually guide your brain to the normal working state down into the Theta brain wave state, which is the deep meditative state. These resonating tones allow a greater harmony between both sides of your brain and more balanced functioning in both mind and body.
Purchase both of the subliminal programs in high quality MP3 downloads for just $15