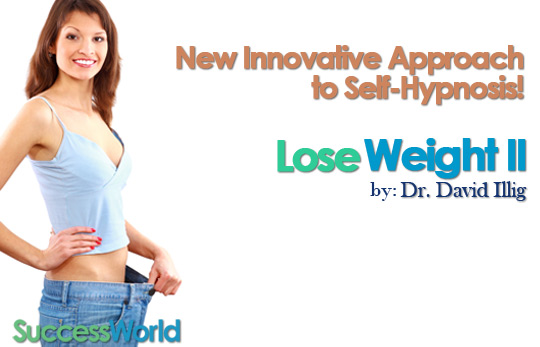 Lose Weight II with Multi-Dimensional Self-Hypnosis
Audio clip: Adobe Flash Player (version 9 or above) is required to play this audio clip. Download the latest version here. You also need to have JavaScript enabled in your browser.
This is An Innovative program using a multi-sensory experience of Self-Hypnosis to expand your experience and nervous system involvement.The hypnosis program is like a movie sound track that takes you more fully into the imagination and suggestions for healthy and powerful weight loss and fitness.
Lose Weight II is a companion program to the original Weight Loss I program which has been helpful to so many people. Lose Weight II allows people to more easily utilize unconscious brain process for their benefit. The program creates complex neural nets in the brain which include all of the senses; sight, sound, touch, smell, taste, and thoughts. It could be so simple as a scene along a street. The brain makes millions of connections that simulate the situation being prompted. And then within this brain environment, various aspects of the brain connect to new learnings and remove old destructive patterns. These changes begin in a unique environment in the brain and then spread to environments in your real life and other parts of your brain/mind.
Lose Weight II is also designed to more powerfully fight against damaging programming the media and food companies use against us. Loss Weight II tackles important issues nobody else is willing to talk about, but which make a huge difference for your success and benefit.
Loss Weight II also has a more powerful approach to subliminal learning which you can feel and notice more easily. Use both Weight Loss I and Lose Weight II together or separately. The program is flexible enough to allow you to adjust to whatever level of carbohydrates, fats or proteins you have decided works best for you.
The Weight Loss II Program will help you to:
Eat healthier. This includes healthier types of foods and healthier amounts.
Notice the size of portions, eat healthier smaller portions, and resist excess portions. It will be easier to eat smaller amounts. Be satisfied by smaller amounts of foods.
Change how you view food. You'll notice what is healthy or not
Increase your metabolism with eating and exercise patterns.
Make Exercise fit into your life and a regular habit.
Stop emotional binging and other long term habits of the past
The Weight Loss II Program will help you to notice negative influences of the media, advertising, and the food industry. It builds your ability and strength to resist and ignore the negative influences.
The hypnotic program also includes special resonating tones that have been found to deepen relaxation and increase learning. These resonating tones allow a greater harmony between both sides of your brain and can increase the effectiveness of your experience.
Use this product with a healthy diet and exercise plan and it will act as a psychological reinforcer to help you stick with your plan.
Track 1 is a Self-Hypnosis and Subliminal Program. Hypnosis is centuries old and time-tested, and new advances make it a potent, powerful and effective tool for tough problems. You are guided into a relaxed, natural learning state. Positive suggestions and images then fill your mind. The hypnosis program also has thousands of healthy healing subliminal messages in the background that you cannot consciously hear while you are focused on the hypnosis program. Your unconscious mind is guided to reach a healthy weight. Results can occur quickly. However, use the hypnosis program no more than twice a day and if needed, once during sleep. Use at least 50 times.
Track 2 is a Subliminal Learning Program You hear mostly the sounds of beautiful music and ocean waves. However, hidden beneath these sounds are thousands of specially designed messages. Periodically you will hear audible messages which move more into conscious awareness. Your unconscious mind mostly hears these healthy, powerful messages, turning them into positive feelings and improved abilities. You most likely will be able to feel that something positive is happening. Body and mind adjust to helping you become slimmer and fitter! Use the subliminal program when you are doing other things or just listen to it quietly. If you use it while driving, make sure you can stay awake and drive safely. Use no more than two or three times per day. Use at least 50 times.
Weight Loss I, Increase Self–Esteem, Joy of Exercise, Goal Setting, Achieve Success, Calm and Relaxed, and Reduce Stress and Anxiety are all programs you could use together.
Price: Downloads $20                   CD: $20
by: Dr. David Illig   ……… There are millions of people using Jenny Craig, NutriSystem, Weight Watchers. It is clear that the SuccessWorld programs would add to the success of those using these plans. Self-hypnosis and subliminal learning might be too "extreme" for the corporate people at these corporations. I find that many people who are involved in "health" issues, especially at the corporate levels,  are extremely limited in their thinking and creativity and open-mindedness, especially about how humanness and consciousness is involved.  They are years behind. I understand that part of this is that research is many years behind advanced thinking. And only certain things get research attention.  So I don't want to wait until "corporate" is creative enough to see the light.  And the food industry and media industry are very willing to use very creative and deep methods to harm us.
I know SW weight loss programs would help JC, NS, & WW members get better results. I would like see what you users of my programs could do to get members of these programs to add SW programs to their plans. How do you get Jenny Craig users to also use SW? How do you get Weight Watchers users to use SW programs? NutriSystem? And I'm curious not about what I might say or do… I'm interested in what can you users say or do with these people so that these people will give SW a try…. And also communicate through the Jenny Craig and Weight Watcher networks and social networks…. to give SW a serious try.  These millions need your help and motivation to get on board with SW.
I am not interested in developing any kind of cult…. however, I do believe that the "network"  or web of SW users does create some type of self healing net/web which benefits us all who are involved with SW and RightMindPrograms and also helps the health of the world.  Its up to you if you receive and helpful healing energy from your involvement and its certainly up to you to NOT receive any energy from the network. But I do think the world benefits in more people using such programs as mine, as well as others. Dr. D.